Text Game has been explored in-depth at CH, but not until now has Instagram Game received its due props. Check out this guy's tight Instagame. (h/t Just Some Guy)
And the coup de gash: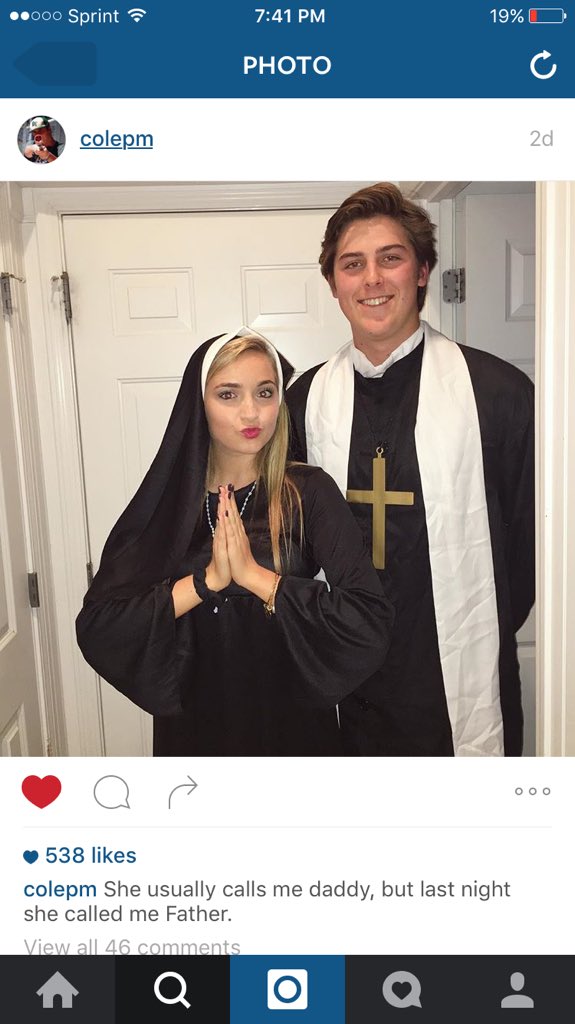 Technically, this isn't pickup game per se because he's obviously taking the piss with his girlfriend in these photos. However, it wouldn't take much tweaking to turn Instagram into a pickup medium for single men.
The obvious benefit that comes to mind is social proof. You can Instagram yourself with girls who aren't your girlfriend. Female preselection is kryptonite to blasé girls with fully operational bitch shields, and seeing you Game a girl buddy will intrigue plenty of third party observers, even if they know the girl with you is just a friend.
You can chat on Instagram, but not private message, so your chat game had better be good enough to pass the Jumbotron test. If you manage to acquire a lot of followers, girls will naturally be attracted to your Instafame.
Don't ever "like" a girl's pic (and don't follow her before she follows you). Don't be a thirsty chode. That means no "I'd stick a thousand needles into my scrote and walk across a mile of hot coals for a taste of your moist taint" anti-Game. That has never worked on a non-fatty in the history of the universe.
Neg girls on their own pics, and use your pics and chat skills to demonstrate high social value. If you travel a lot, IG is the perfect vehicle to quickly DHV to adventure whores, either abroad or back at home. (You'll have to ask for the girl's location if it comes to a request to meet IRL.) Mark your pics with tags of the city you're in so local girls searching on them can find you.
Instagram would go well with a Photographer Identity.
NB, face-to-face game is still leagues better than social media game, so don't elevate the internet to anything more than an adjunct to real life seduction. Online game is meant to be a slow cook crock pot simmering in the background of your sex life. The best advantage of Instagram is that it's hardly any work at all; a passive, rolling DHV and hook gimmick that draws girls into your world… for you to make dirty with!
Executive summary:
– Use Instagame to pick up artsy chicks and minor fame whores who love looking at photos all day and dreaming of faraway lands.
– Emphasize travel shots, female preselection shots (pawns and pivots are your friends), adventure/extreme recreation shots, and humor shots (if you have the comedy chops). Also, if you are a high-flying businessman, shots of you in a bespoke suit at fancy events are choice.
– Don't follow. Be followed.
– Leverage IG's platform to efficiently neg and tease a lot of girls' photos. This is how you quickly trigger attraction in girls.
– Properly tag your photos to capture the widest female audience possible.
– Avoid puppy and kitten pics, unless you're using them as props for a one act badboy play. Cuteness makes girls smile, but not tingle.
– Move to chat, and then to RL, sooner rather than later.
– Submit your Instagram field reports to CH for harsh, but unerring, judgment.